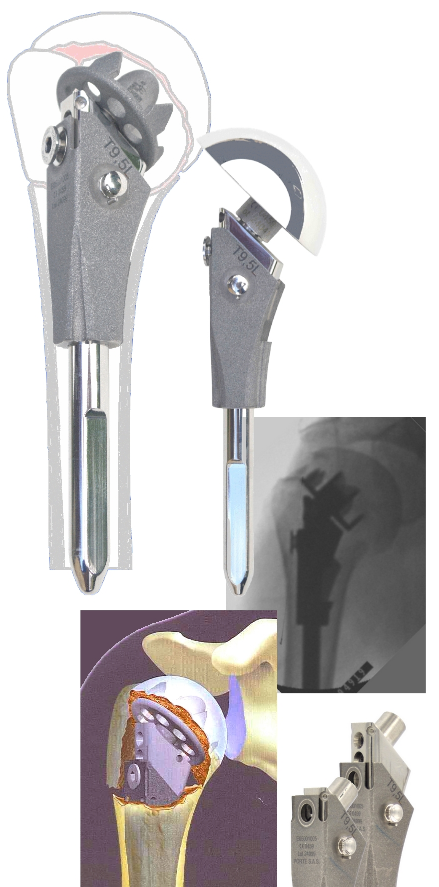 JUST UNIC
The "bilboquet" (cup-and-ball game) concept was imagined in 1989 in the concern to improve the stability and the ease of the anatomical reconstruction in the complex and displaced fractures of the superior extremity of the humerus (FSEH).
Such 3 or 4 fragments fractures on osteoporotic bone are characterized by the difficulty of maintaining the stability of the osteosynthesis and by the exposure to complications like avascular osteonecrosis of the humeral head.
The  "bilboquet" concept is based on the implementation of a circular staple impacted in the cancellous bone of the humeral head, the staple so constitutes a solid platform which allows to support circumferentially the head and to reduce it anatomically.
The "JUST UNIC"  shoulder fracture device brings to this concept a major innovation by differentiating the stability of the device in the huméral blunderbuss via the implementation of the "sleeve", and the regulation in height of the humeral stem. Tjis innovation allows to facilitate the reduction and to maintain the space of reintegration of the tuberosities.
The preservation of the humeral head in contact with the tuberosities favors the consolidation of the fracture (1 ). Based on this principle, for the cases where the secondary osteonecrosis is a risk, the "JUST UNIC" system proposes an option of hollowed head hollow which allows to graft the osseous head in contact with the tuberosities, leading to the same principle that the "bilboquet" staple.
(1) Complex proximal humeral fractures: a prospective study of 22 cases treated using the "Bilboquet" device. L.Doursounian, Dept of Orthopaedic Surgery and Traumatology, Hôpital St Antoine, Paris, FRANCE, Orthopaedics & Traumatology Surgery & Research (2011) 97, 58-66